I don't know about you but I am in love with beauty oils. It started off as a crush and then out of nowhere it has blossomed to full PDA love. Even my boyfriend incorporated beauty oils in his daily face routine!
Before I start my list of favorites, I want to quickly share my experience with oils.
I went crazy for a month and thought that I didn't need to use any beauty oils (For some reason I thought that it was an expense I would be able to cut back on but I was so wrong). Within that short time period my skin went through some major negative transformations and at first I had no idea why. My skin started to look very dull, makeup wouldn't set right, very DEEP eye wrinkles.
I went back on beauty oils and instantly the life in my skin came back.
Here is a list of some of my top faves:
1. Josie Maran 100% Pure Argan Oil – $20 – $125
Available at Sephora


A very lightweight oil that can be used for your face and oil (I only use it on my face). This has been an absolute game changer. This 100% Pure Argan Oil is a legendary oil that's rich in vitamin E and essential fatty acids, and grown organically in Morocco. With its multitasking benefits, Argan Oil can be used for many areas including hydrating and nourishing skin, as a daily moisturizer, skin treatment, treating spilt ends, and softening cuticles. It's gentle enough to use on all skin types and is believed to help with skin conditions including acne. Argan Oil easily absorbs into skin to give you a youthful, dewy glow, and has astonishing healing, conditioning, and antiaging properties to keep your skin and hair nourished and revitalized and to keep you looking beautiful from head to toe.
Tarte Pure Maracuja Oil – $55
Available at Sephora


I first received this as a sample and fell in love with it right away. This 100% pure maracua oil quickly absorbs for firmer, brighter, smoother skin. Pure maracuja oil is rich in vitamin C, so skin appears instantly brighter and more radiant. The oil is also a source of essential fatty acids (EFAs), a requirement for healthy skin cells that the body cannot produce on its own. EFA deficiency can result in the breakdown of essential skin cells which causes skin to appear dry and aged. By supplementing skin with pure maracuja oil, you are infusing life back into dull skin and replenishing EFAs to rapidly rebuild and repair. This potent antiaging elixir that has anti-inflammatory benefits promotes active skin recovery and delivers maximum hydration without any greasy or filmy feel.All in all, oil that is great for your skin!
Kosmea Skin Clinic Organic Rosehip Oil – $50
Available at Well.ca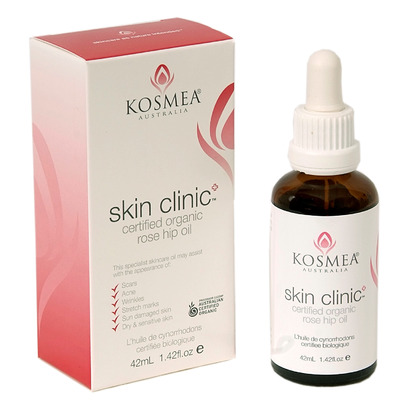 Rich in essential fatty acids, vitamins and antioxidants, this easily-absorbed oil is a real treat for the skin. It may help smooth wrinkles, even out skin tone, reduce appearance of scars, moisturise and soothe dry skin, nourish and hydrate ageing skin, balance oily skin and reduce the appearance of blemishes. Great for giving that glow to dull, tired skin.
Beauty oils can be a bit pricey but trust me, the payoff is huge! It will soon become the holy grail in your skincare routine! I don't know how I ever lived without it!
Stay tuned on which one I currently use and how I use it in my skincare routine.
Stay wonderful,